Getting home physiotherapy in Bangalore would give you the best of both worlds. You would be able to get world-class Physiotherapy treatment and you don't have to go anywhere. But physiotherapy is not the only way to live a healthier and better life. In the following post, we would take a look at some of the tips that you should follow to live a life free from pains and body aches and how you can get the most when you book a physiotherapist home service in Bangalore.
Tips for the Workplace
Since most of us spend a lot of time in our workplace, let's start with seeing how you can work better and avoid stress as that might lead to chronic pains and other critical health issues. Here are some of the things that you could do to work better.
– When you take a break, avoid surfing the web or answering texts. You need to get up from your seat every couple of hours, take a short walk and stretch your legs
– Do some stretches at your desk every twenty minutes to half an hour. These would loosen up your shoulder and neck, which often tend to get stiff due to the stress of work
– Always maintain an upright posture
– Sit close to your work station
– Always keep your monitor at eye level
– Your legs should be flexed at 90-degree angle with your feet resting comfortably
What to Do After an Injury
When you have injured your body, specifically if you have sustained a soft tissue injury, it is best to adopt the RICE method – Rest, Ice, Compression and Elevation. This helps to accelerate your recovery
– Rest is important for the body to heal. Without proper rest, the injured area could become inflamed, more painful, and the chances of further injury would go up
– Ice also helps in reducing inflammation and pain. To protect your skin we recommend that the ice be placed within a towel before wrapping around the injured area
– Compression acts in reducing the swelling and pain
– Elevation helps to reduce blood flow to the affected area
Once you've followed RICE, as above, please give us a call and find out how our home physiotherapy service can help you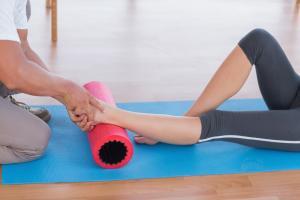 TALK WITH YOUR THERAPIST
Communicating with your physical therapist is an efficient way to maximize the benefits of treatment. It's always important to communicate with your therapist. Let your therapist know if something is hurting you or if you're experiencing difficulty during treatment. Even though its common for exercises to cause some discomfort and most of the time, they might be minor issues, but still make sure you inform your physiotherapist about the same.
KEEP A RECOVERY JOURNAL
A recovery journal is a great way to log your progress as you get better. It is recommended that you record the date of the sessions, what was done and if you have faced any discomfort either during the session or after, make sure that you write it down as well.
Share your findings with your therapist. This would help in tracking the progress and they would be able to customize your therapy to adapt to the issue. Recovery tends to get slow at times. Having a record helps you see just how far you've come. During our initial sessions for home physiotherapy in Bangalore, we recommend that our patients follow a detailed journal
PUT YOUR COMMITMENT
The number of physiotherapy sessions you have for therapy often depends on your injury or the ailment that you are facing. Minor injuries may only need a few sessions, while more serious injuries may take several weeks or months. When we offer home physiotherapy in Bangalore, we develop an optimized treatment that would help you to recover fast. It also depends on how seriously you take the treatment.
You would need to stick to appointments as that is key to a speedy recovery. Don't skip any sessions; make sure you stay on track concerning recuperation.
To book a session with a home physiotherapist in Bangalore, contact Ayursh. We have a team of some of the most qualified and experienced physiotherapists. You can choose single or multiple sessions in one go. Just choose the date and the specific type of treatment and we would arrive at your home to administer the treatment. So, get in touch with us and get the help that you need for your fast and effective treatment for your ailments.